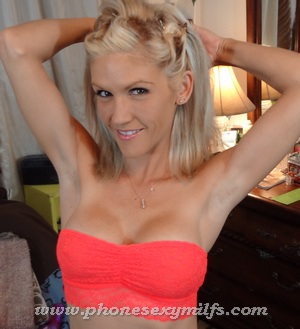 If you like MILF phone sex and sexy MILFs, you'll love me! I guess you could say that I'm the stereotypical hot MILF. The classic "good girl gone bad".
I grew up always doing what was expected of me, including getting married young to a nice, but boring, guy. The sex was fine but it wasn't enough for me. I was always attracted to other men — older men, younger men, MUCH younger men! And the older I got, the stronger my sex drive got and the more frustrated I got. One day, after an outrageously flirty and frustrating lunch with my very sexy boss, I realized I couldn't repress my desires any longer. I filed for divorce and began to live the hot MILF life I wanted.
No more "good girl" for me! I break all the rules now and live out all my fantasies. The sex starved married guy who lives across the street? I do all the sexy things for him that his prudish wife won't do. That cute young college boy who cuts my lawn? He's learning much more from me than in any of his classes. And my boss that I mentioned before? Well, I still work for him, but when working hours are over, I become his "boss" behind closed doors.
My MILF phone sex calls are another way for me to explore all sorts of kinky fantasies. It's a turn on for me to see just how many men have secret fantasies about sexy mature women. There's something about an older woman's sexual confidence and experience that's exciting, isn't there? Lots of you guys had crushes on sexy MILFs when you were growing up — teachers, neighbors, aunts. You might have even lost your virginity to a hot MILF like me.
If those kinds of memories or desires still have a powerful hold on your sexual imagination, you should call me. MILF phone sex can be YOUR outlet for exploring your kinky, taboo fantasies too.